The Three: September Edition
Cultural happenings that caught my eye this month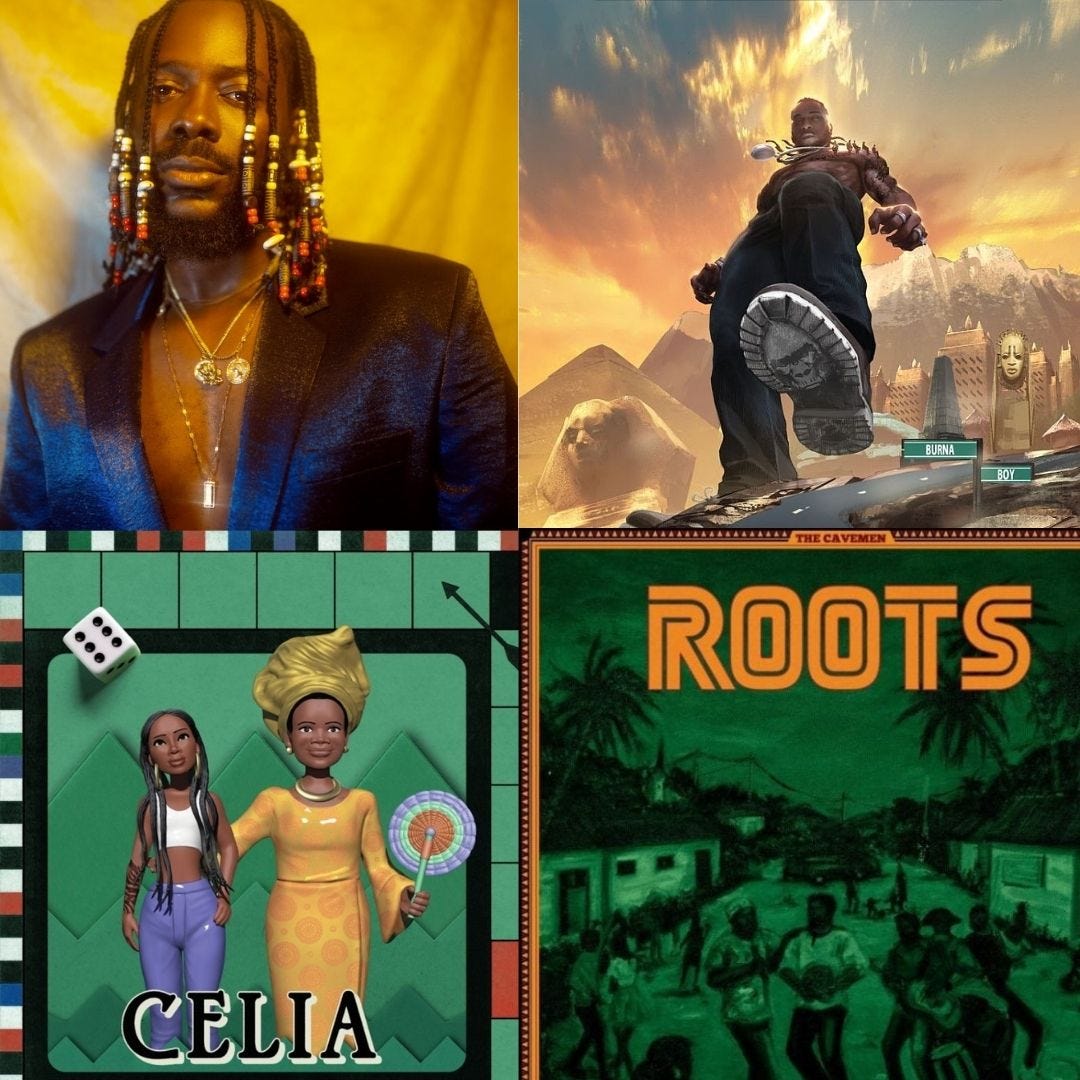 This was quite the month in music! A whole bunch of new stuff to jam to. Here's my take on some of the new records we've been hit with.
Previous editions of your favorite monthly newsletter here and here.
Adekunle Gold covers new ground
Adekunle Gold has never appeared more sure. He's been playing with the beaded longer hair for awhile, and has been rocking it in videos since he dropped "Jore" with Kizz Daniel. He's been sharing workout videos on his IG. He's been reminding us that "AG baby is your baby", as if he knows for damn sure that he's hotter than he's ever been. Gold has always been colorful, but now he appears even more flamboyant and exploratory in both his image and his music. He has always been good at what he does, but he has finally done something I've wanted to see him do for years: acquire a bit of edge, and move beyond his erstwhile self-conscious, squeaky clean image.
AG himself admits to this change. In a recent interview with Joey Akan on "Afrobeats Intelligence" he's quoted as saying "When I came in 2015, I was younger. Now I'm older and I feel more confident in myself. I feel very good, I feel sexy. Everyday I workout and I check myself in the mirror, I'm like yeah, this is what I've always wanted to be. I'm just growing with time." I believe him.
The evolution into this new personality he has taken on and his marriage are twinned in my mind, because this evolving image has coincided with his getting married in January 2019 to Simi. It is as though he perhaps needed an anchoring force to allow for a new kind of blossoming. Even Simi, as opinionated, thoughtful and playful as she's always been, has not slowed down or moved away from who she's been. Her music, too, has gotten more sure and confident, and there are moments on her 2019 record Omo Charlie Champagne that hint at more edge than the 2017 record Simisola. I am looking forward to her next record as well for the same reason. I enjoy the thought, because it's so rare that we see examples in Nigeria of marriage as a driving force for any kind of freedom. We should all feel just as free to continue the process of becoming as we move through life, artist or not.
Afropop Vol. 1 as a collective covers both old ground and new territory for AG, but perhaps the main change is the assertiveness and boldness with which he approaches the songs. We see a new defiance on "AG Baby" and "Okay", where he claims the space he has built over time, saying "Street boy topping all their mainstream shit/ sweet boy stunting like the matrix shit" and asks his hater if they want to "l'ari mo 'le" (slam their heads on the floor). "Water Carry Me" produced by E Kelly echoes old-school high-life tunes as he is wont to do, as he asks a love interest "Will you let me prove I'm the answer, baby?" On the really cool collaboration with Olayinka Ehi "Exclusive", he asks: "Are we exclusive now? If It's game over let me know." Neither of these are exactly atypical, but he suddenly sounds less like a hopeful suitor crooning outside his loved one's window and more as a smooth baddo making you an offer you can't refuse. No song typifies this more than the standout track "Something Different" where he talks about a love he has to let go: his musicality shines through, as does his affinity for love songs, but not once on that lead single does he sound at anyone's mercy. The album does not have any real low points, but even the weaker tracks "Water Carry Me", "Sabina", "Here for Ya" are mercifully devoid of any simping.
There's apparently also going to be a Volume Two, and I can't wait to hear that. You get a sense with AG that from now, the only way he's going is up.
Tiwa Savage hits her stride
Her excellent 2017 Sugarcane EP was always going to be difficult to follow up on but Savage more than pulls it off with Celia, a record that solidifies the artist she's becoming. I admit to feeling a fair amount of relief. The thing with Savage's earlier work is that the quality varies wildly from cringe to excellent and from R'n'B to afrobeats without enough of an identity tethering it. It's hard to see an anchoring identity behind songs like "African waist", "Standing ovation" and "Without My heart". This lack of consistency of her previous ouevre is not always because of the songs themselves, but the sense that she takes on songs that sound like what she thinks people want to hear. In the past three years, though, I can finally say now that I know what Tiwa Savage's music actually sounds like.
Celia starts off with "Save My Life", a song about sex that's more explicit than I've ever heard from her. I'm fascinated by this thing where Yoruba female artists say all the naughty bits in the native language (Niniola is queen of this, because the hook of "Maradona" made me gasp and doubt my Yoruba knowledge when I first heard it). Comparing the more earnest sex talk on "Save My life" to almost jokey "when was the last time you asked me to bend over, make you jam the ting enter" on "Attention," and one wonders if the sense of ease comes from feeling like you're speaking in code. It's especially interesting because I don't see this inclination among male artists, who are as likely to be crudely or otherwise sexual in English as in a native language. "Koroba" carries on where 2018's "Tiwa's Vibe" left off, with what I think of as a celebration of the Naija version of the "bad bitch" trope. Thanks to COVID-19, the streets are being deprived of laidback club vibes with "Bombay", where Steff London blessed us with a verse worthy of a slow whine or two. The irreverent Naira Marley featured on "Ole" and gave us the hilarious line "o fe f'obo san gbese, o ni beru Olorun" (no, I'm not translating that for you). Where Sam Smith's collaboration with Burna felt awkward and lacking in chemistry, his collaboration with Tiwa on "Temptation" made much more sense. The Global South linkages our music facilitate really warm my heart, so it was really great to hear her team up with the young Kenyan-British artist Hamzaa on "Pakalamusi" was lovely to see, even though it is far from a standout track.
Listening to the album, I find that I wish she had more of a chip on her shoulder. Savage never quite bigs herself up on her accomplishments in the industry and her personal life, even though she's more than earned that; it's usually more about her looks and her style. When she does talk about money, it's aspirational ("gotta get the moolah, ko kunle"). I wonder to what extent it points to her general attitude towards womanhood. In an interview with Billboard from May 2020, she's quoted as saying that more traditional values of submission and taking on of more traditional roles as "great values to keep". She has also caused some uproar among young women online when she has said in an August 2018 radio interview that she doesn't believe that men and women are equal and has decried what she sees as women not giving her support, even though there was a massive outpouring of female support for her when her marriage rather publicly hit the rocks. It feels contradictory at first, but her strange modesty in this regard makes sense if you think of her as not unlike women of a previous generation who, however much they accomplish, make it a point to claim more than anything their ability to be traditional and serve the men in their lives. She may well have earned her accomplishments, logic goes, but it's not her place to own it. Else, she could drive men away and negate the entire point of her well-cultivated desirability.
In her recent interview with Billboard, she says this of the future she wants for -- I still cringe at this term -- Afrobeats: "Give us that kind of global campaign — treat Afrobeats like a pop record and not a tastemaker record or something that cool urban kids in the diaspora listen to. How often do you see an American artist get signed and he or she already has 5 million followers on their own? Even 1 million? And you don't want to give them the same push as Bieber? If [African artists] even had 25% of that push, Davido and Eazi would be billionaires. That's the vision I want for Afrobeats. They haven't even begun to scratch the surface. But when they do, it's going to explode."
They will. It will. And I can't wait to see what Tiwa does next.
Burna Boy Aims High
Twice As Tall came with a lot riding on it. Burna says so himself. Following his tradition of pensive opening tracks on his albums, he admits on "Level Up" that the Grammy loss had him "feeling sick as fuck", even though he knew he would ultimately need to come back stronger. "When you start thinking that you can't level up, that's when you haffi shut the devil up."
Level up, he sure has, even though it feels as though he's been leveling up for the past three years. The three-album run between 2017 and 2020 -- Outside to African Giant to Twice as Tall -- is as strong a run as you're likely to see in Nigerian music for a very long time. Not all runs are the same in terms of their cultural impact. But whether we're talking about DMX dropping Flesh of My Flesh and It's Dark and Hell Is Hot consecutively within a few years, or even as Lakers winning back to back titles in 2009 and 2010 seasons, all runs require the ability for focus and drowning out the noise, even when the sound of the ovation holds up your confidence and sense of accomplishment like a buoy on an ocean. Burna knows this; on "Way too big" he talks about the need to be above the bullshit even amidst the weight of the expectations of him ("your back and your spinal cord go break if you try carry my weight").
The album itself, like all his albums before it, feels like a coherent body of work that is at once diverse and still feels like it's shedding a light on the person he is. Brilliant and introspective tracks like "23," "Real Life" and "No Fit Vex" are my favorite of Burna Boy's, where he considers his place in the world and in the larger body of the music industry, as well as how his life and relationships have evolved as a result.
Even though most of my personal favorite songs on Twice are solo tracks, the collaborations were really the highlight. Burna has built on the momentum he's garnered over the last few years, this time facilitating collaborations between Nigerian producers and larger-than-life forces like Timbaland and Diddy. "Naughty by Nature" made me smile, because trading verses with Treach must have been a dream for a kid who grew up in the 90s. He and Sauti Sol seemed to have a really easy vibe in their first collaboration "African Star", and it showed again here on the brilliant "Time Flies". The collaboration that showed the real scale of his ambition, though, was "Monsters You Made". Of all the tracks on the record, I'm maybe looking forward to seeing "Monsters" performed live with Chris Martin and his band playing alongside Burna.
While we're on the subject of how his music shows who he is, it's worth engaging with what exactly he tells us in his music. Just as with the video and the song "Dangote" ("Dangote still dey find money o, who I be say make I no go find money o"), "I No Fit Vex" recognizes others' struggle and refuses to judge what people have to do to make it. There's his reaction to slackers ("knack am sometin") and haters ("the way that you dey move, I no dey like am/ e be like pesin wan wear the show wey no size am"). All of these are fairly consistent, so it makes sense to also scrutinize his political opinions that do not appear to be as consistent. Burna Boy is at his angriest and most passionate in "Monsters You Made" when he talks about what colonialism and Nigerian leadership has wrought on its population. He also has mocked people who seek justice ("you no get money, you dey call police, me I dey laugh you gaani"), rather than those who are too corrupt to provide that justice. In "Wetin Dey Sup", he says "they only respect the power and the violence, so I show them wetin dey sup." It all begs the question: which is it? I understand that there are many Nigerians who do complain about the very behavior that they are likely to display if given half the chance, but I think it's important that we demand more of those who take on the mantle of being politically-conscious and seek to demand better of us. You're either cool with using power and influence in society to throw your weight around or you're not. You're either politically aware enough to recognize the origins of our problems, or you're not. You don't get to acquire wealth and expect that, because you're not a corrupt politician, the question of accountability will not apply to you, as he implies in that weird rant he embarked on when people got mad at Funke Akindele for flouting COVID-19 rules.
There's been a fair amount of social media conversation on whether Burna has been burnishing his "woke cred" mostly for his increasingly global audience. It's entirely possible, and I agree in general with what Oris Aigbokhaevbolo wrote a while ago about the Fela links that many contemporary artists today are flirting with:
"Today's pop artists have since taken the first. They are yet to reach second. And they don't understand how the third lent the second its effect. With Fela, you dance but you think. With a lot of today's artists, you dance and you go home. There is too little to think about but if you did think it through, the gaps in their lyrics, in their politics are hard to ignore. The current crop of Nigerian artists misunderstand the Nigerian condition. Sadly, this misunderstanding only grows as they get more successful."
Burna's eye on the Grammy Awards definitely informed the collaborations, but also his singles choices. I've already had my go about "Wonderful" last month, but his having released that and "Monsters" -- as opposed to the other songs on the album that are more in line with the kind of artist he's always been -- tells you where his head is at in terms of what he thinks he must do to successfully court Western recognition. There's nothing wrong with the ambition, of course, but it does make me wonder about what he is willing to alter and change in order to attain it. If he does win the Grammy this time, though, I'm curious to see how he proceeds. We've already seen what Burna does when he's feeling "sick as fuck". I hope we get to see him come back twice as tall once more -- but from a high this time.
What Else I Listened to This Month
If you're a fan of high-life, do yourself a favor and go check out The Cavemen's Roots album. It's a lovely, atmospheric change of pace from pretty much everything else that's out on the Naija scene, and will go perfectly with a cold glass of palmwine and nkwobi. The record is a self-conscious one that is aware of what it's trying to do. Decades ago, highlife was just what people listened to. It was what was contemporary, and people were carried through these 20-minute records as they laughed, reflected, rolled your eyes. Cavemen on this record, though, were brimming less with personality than with an earnesty about what they were trying to do, the kind of earnesty you can get away with if you're singing pop songs. It's the one major thing I hold against them. I wanted less earnest interpretations of music of yesteryears, and more using this age-old style to tell their story of today. In summary: you know that a style is yours when you can confidently fuck with it. It's a great atmospheric record, but I definitely wanted more.
I have to say, I was pretty disappointed with Fireboy's latest record Apollo. I tried to love it as a cohesive body of work, but couldn't. That said, there were some tracks I really enjoyed: The title track "Champion" is triumphant, I love the '80s bounce of "Favorite Song", "Tattoo" is hot. "Afar" is likely my favorite track on the record. It's not actually that the record is bad, it just did not hit the high notes that Laughter, Tears and Goosebumps did for me. It's still clear that Fireboy's got next, and it's great watching him thrive. Olamide deserves an enormous amount of credit for being able to find and nurture a diversity of acts like Adekunle Gold, Fireboy and Lil' Kesh towards various levels of success. He needs to teach this A&R method, stat.
Reminisce dropped the Vibes and Inshallah EP to tease us. He's one of my favorite rappers, so it was a real treat to hear new stuff. On "Vibes", he's just rapping about his life, his attitude towards his music and being home with his kids. That song made me smile, because it really highlighted what I love about him. On his records, he is layered and thoughtful, but also irreverent and playful, all without ever sounding out of place. On "Jogodo" and "Gbedu", Reminisce is his typical irreverent self that those of us who heard Baba Hafusa would recognize from "Local Rapper" and "Tesojue". The whole record is a real treat, but I need an actual full length album, man.
And now we come to some records I'm only just now getting around to. I've been really enjoying Omah Lay's music lately. His EP is a great introduction to his playful and a bit sex-mad brand of pop. I absolutely loved "Lolo" and "Bad Influence", so I finally put the entire Get Lay'd (see? Sex-mad!) EP on rotation. Loving it so far. I've also started giving some spins to Terry Apala's Major Vibes EP. I thought he would blow up after "Champagne Showers" dropped in 2016, and was disappointed he didn't. Better now than never, though. I think there's a track with Niniola, so it's already my favorite even though I haven't heard it yet.
Away from Nigerian music, Lianne la Havas' eponymous album and Jessie Ware's What's Your Pleasure are as brilliant as I expected them to be. Neither of these women know how to make a bad album. Check them both out. The rapper Duckwrth also just released a new album Supergood that I only just downloaded. Seeing as I only really listen to South African and Nigerian rap these days, it'll be good to check out what's hot Stateside.
Until next time.